Our festibalades – Vineyard walks and dinner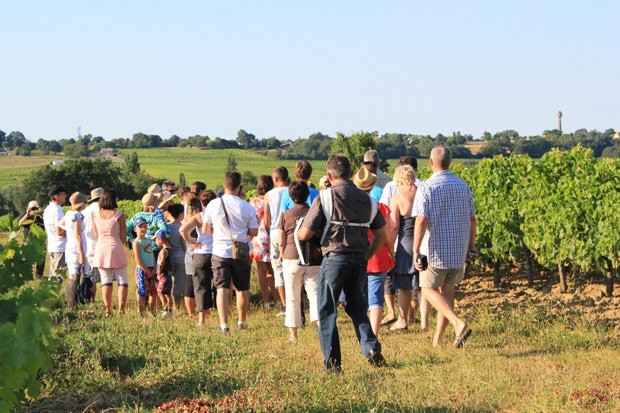 The Blaye Côtes de Bordeaux Festibalades are the best way for you to immerse yourself in our vineyards. The idea is simple: you are the guest of one of the appellation's winegrowers and they will reveal all their secrets during the course of a visit of the vineyards and winery. You can then spend an enjoyable moment with them over a glass of Blaye Côtes de Bordeaux in the heart of their estate.
A Festibalade evening looks like this:
6.00pm: set off to discover the wines of Blaye Côtes de Bordeaux with one of our winegrowers as your guide. Along the way, as you pass through the vineyards and landscapes of our beautiful region, let yourself be entertained by various fun activities for the whole family.
8.00pm: back at the château, in the confidential surroundings of his winery, our winegrower will tell you all the secrets of Blaye Côtes de Bordeaux wines. You can then enjoy a glass of wine as an aperitif, giving you a first opportunity to try out the art of tasting.
8.30pm: to round off the evening, enjoy local specialities at a dinner served in an alfresco setting. An opportunity to meet and talk with your fellow-guests, you can enjoy barbecued duck breast or rib steak Bordeaux-style (with a red wine sauce, of course!), as your host's fancy takes him. The only rule: to ensure that you experience the best our region has to offer.
Price (dinner and wine included): adult €25, child €8.
Meeting point at the château, pre-booking possible, payment on arrival.
Online booking available here.
Watch our Festibalade video: